Crazy Styxx's stick



Gender

Male

Age

Deceased

Side

Evil

Origin

Australian

Appearance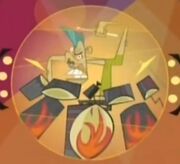 Crazy Styxx was the best drummer who ever live.
Kaz was in the drummer's final concert. Crazy Styxx was in a big glass ball, being turned around by small wheels in the left and right side. when it started to turn around, he began playing his drums. As he was turning faster, the right wheels couldn't handle anymore rolls, and it broke. Then the ball, with the drummer in it, was rolling quickly, until it crashed. Crazy Styxx was thought to be dead and there was no sign of his body. The only thing left were his drum sticks. His soul jumped into them, so he can control the body that touches them.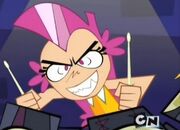 Ad blocker interference detected!
Wikia is a free-to-use site that makes money from advertising. We have a modified experience for viewers using ad blockers

Wikia is not accessible if you've made further modifications. Remove the custom ad blocker rule(s) and the page will load as expected.