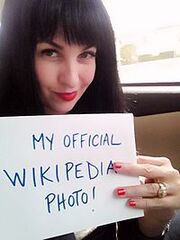 Grey DeLisle (born as Erin Grey Van Oosbree on August 24, 1973) is an American voice actress, comedian, and actress. She did the voices of Yumi, Jang Keng, Sunekura and Timmy for the show. Thanks to fellow actors, Janice Kawaye and Keone Young, she practiced Japanese language for the show. She also did the voices of Mandy in The Grim Adventures of Billy and Mandy, Frankie, Goo, and Duchess in Foster's home for Imaginary Friends, Vicky in Fairly Odd Parents, Daphne Blake in Scooby-Doo, and Sam Manson in Danny Phantom, and also she voiced by Kitty Katswell from T.U.F.F Puppy.
Ad blocker interference detected!
Wikia is a free-to-use site that makes money from advertising. We have a modified experience for viewers using ad blockers

Wikia is not accessible if you've made further modifications. Remove the custom ad blocker rule(s) and the page will load as expected.