Harmony



Gender

Female

Age

Unknown (possibly 6 to 9)

Hair

Blonde

Eyes

Blue

First appearance

Voiced by

Sandy Fox
Satomi Arai (Japanese dub)
Harmony
is AmiYumi's biggest fan. Whenever she sees them, she says "I'm your number one fan" (Number One Villager in "It's Alive"). Because she like them too much, she appreciates anything either of them give to her. She once hypnotized herself with a lollipop she used while trying to hypnotize Ami and Yumi. She is a member of the Junior Tapeworm Scouts. 
Appearance
Edit
Harmony is a small girl with blonde hair in a flip curl and blue eyes. She generally wears a pink blouse, green overalls, a green bow in her hair and black shoes. Briefly in the series premiere, Harmony was seen wearing Ami's white childhood bunny pajamas. In Puffy B.C., she was seen wearing a brown-orange dress and bow. In Junior Tapeworm, she's seen wearing a green and ochre scout shirt, a dark green skirt, green socks in dark green shoes, and a pink tapeworm hat. In It's Alive, she was seen wearing a broad brim hat, a shirt, a skirt and Mary Janes.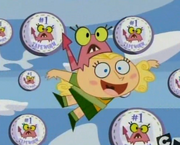 Notes & Trivia
Edit
Due to her behaviour seen in the show, Harmony represents a stalking-type fan, a person (sometimes psychotic) which knew all of their favorite celebrities' details in every second.