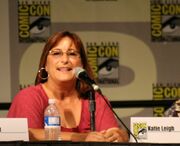 Katie Leigh (born December 16, 1958) is an American voice actress, best known for her role as Connie Kendall on the Focus on the Family radio program Adventures in Odyssey, Sundance, Fizzy, Baby Shady in My Little Pony, and Sojourner, Crow, Sandpiper in Space Racers. She voices King Chad, Madame Blubbery, Pierre, and Parsephus for the show.
External Link
Edit
Ad blocker interference detected!
Wikia is a free-to-use site that makes money from advertising. We have a modified experience for viewers using ad blockers

Wikia is not accessible if you've made further modifications. Remove the custom ad blocker rule(s) and the page will load as expected.