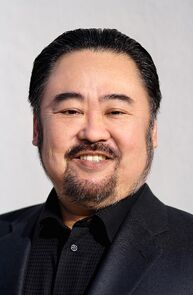 Keone Young is an American-Asian actor. He did the voices of Kaz and Domo for the show. He and Janice Kawaye, who speak japanese fluently, helped Grey Delisle speak Japanese to help her voice Yumi. He also did the voices of Katarou in "Teen Titans", Mr. Sanban in "Codename: Kids Next Door", and Grandpa in "Jake Long: American Dragon". He was notable as Mr. Wu in "Deadwood" and an alien in "Men in Black 3".
Ad blocker interference detected!
Wikia is a free-to-use site that makes money from advertising. We have a modified experience for viewers using ad blockers

Wikia is not accessible if you've made further modifications. Remove the custom ad blocker rule(s) and the page will load as expected.