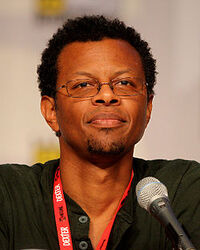 Phil LaMarr (born January 24, 1967) is a American actor, voice actor and comedian who is known for the major role as Hermes Conrad and various other characters on Futurama, Wilt and other recurring characters on Foster's Home for Imaginary Friends, Carver Descartes on The Weekenders, Vinnie on Kim Possible, Virgil "Bull" Sharkowski and additional voices on My Gym Partner's a Monkey, and Hawk on Big Time Rush. He voiced Wacky Wally on Ami's Secret / Taffy Trouble / Dance A-Go-Go episode on this show.
He was incorrectly credited as Phil Lollar instead as Phil LaMarr on Taffy Trouble.
Ad blocker interference detected!
Wikia is a free-to-use site that makes money from advertising. We have a modified experience for viewers using ad blockers

Wikia is not accessible if you've made further modifications. Remove the custom ad blocker rule(s) and the page will load as expected.