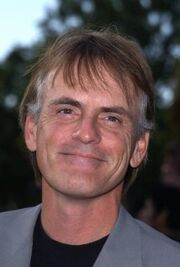 Rob Paulsen (born March 11, 1956) is an American voice actor and singer. He did the voices of Atchan, Professor Marvelous, and other various Characters on the series of Hi Hi Puffy AmiYumi. He voiced most of the characters in the show. He also voiced Pinky in Pinky and the Brain, Raphael in Teenage Mutant Ninja Turtles 1982, and Beauregard "Buck" Tuddrussel in Time Squad.
He, along with Grey DeLisle, Janice Kawaye, Keone Young, Kim Mai Guest and Phil Lamarr voiced characters on Codename Kids Next Door.
He along with Grey Delisle and Phil Lamarr voiced characters on Foster's Home for Imaginary Friends.
He along with Sandy Fox and Will Ryan voiced characters on The Land Before Time.
Ad blocker interference detected!
Wikia is a free-to-use site that makes money from advertising. We have a modified experience for viewers using ad blockers

Wikia is not accessible if you've made further modifications. Remove the custom ad blocker rule(s) and the page will load as expected.