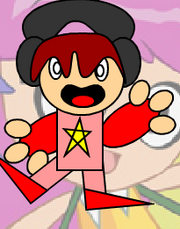 Heat Phones
Gender: Male
Age: 15
Hair: Darkish Red
Eyes: White (Scratch) Red (Animated)
Is the 3rd member of the band. He's a DJ
Heat Phones is the 3rd one in the band. He joined on the 1st episode remastered version: (New Friends, Awesome Trip).
However, he can be sawn doing the Fus Ro Dah in R Episode 1 (No Chair is needed), Season 2 (Superme Rock). R = Remastered
Happy creating! :)
Ad blocker interference detected!
Wikia is a free-to-use site that makes money from advertising. We have a modified experience for viewers using ad blockers

Wikia is not accessible if you've made further modifications. Remove the custom ad blocker rule(s) and the page will load as expected.